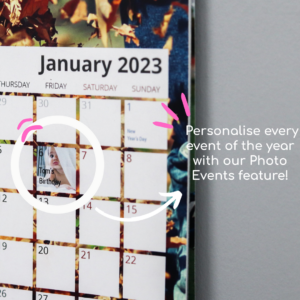 This slim calendar can be mounted on your wall with a hook, so that you can flick through the year anytime with ease!
This vertical calendar is 15.3×30.5cm.
Plus, personalise every event of the year with our Photo Events feature! Pick the 'Events' tab along the side of the designer, pick your date, and edit it and add your own photo. Celebrate birthdays, anniversaries, upcoming holidays, and more!